Holiday Cardboard Recycling Tips
A USA Today analysis of several industry studies on cardboard use shows Americans are sending more corrugated cardboard to the landfill than to recycling plants compared to past years. Oftentimes the reason is poor cardboard recycling practices at the curb, among other factors. Read more.
Tips for Holiday Recycling
End-of-the-year holidays, celebrations and special occasions usually generate more trash and waste than other times of the year. We have tips and tricks for recycling everything from cell phones to holiday lights and Christmas trees. Check out our ideas to help you recycle more and create a lot less trash this holiday season. See more about reducing, reusing and recycling during the holiday season.
What Do I Do With?… Usable Goods
Donate unwanted clothes, toys, furniture, household goods, holiday decorations and other unwanted items to local nonprofit organizations that reuse or resell the items to support their work in the community. Learn more about donating usable goods.
Cereal Bag Collection Discontinued
Terracycle has announced that they are discontinuing the cereal bag collection program. The Solid Waste District will no longer accept cereal bags in our lobby drop box. Empty, clean and dry plastic bags, cereal bags, wraps and film can be recycled for free at many area retail stores. To find drop-off locations in your community, see www.plasticfilmrecycling.org.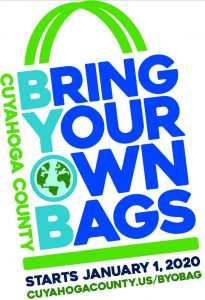 County Bag Ban Begins January 1
Cuyahoga County's plastic bag ban goes into effect on January 1, 2020. The ordinance prevents Cuyahoga County grocers and retailers from providing plastic bags at the checkout. It was passed by County Council in late May.
Learn more about the ban and the type of bags it includes at www.cuyahogacounty.us/byobag. For questions about the bag ban, contact the Cuyahoga County Department of Consumer Affairs at (216) 443-7035.
Do you know what to throw? Garbage and improper items in the recycling cart or bin causes many problems. It also increases the cost of providing recycling services. Place ONLY these five items in your curbside recycling: cans, cartons, glass bottles and jars, paper and boxes plus plastic bottles and jugs. Find a printable list here.