New information has recently been sent to all residences in Strongsville from the City of Strongsville, Cuyahoga County Solid Waste District (CuyahogaRecycles.org). If you did not receive, you can download it here .

Reduce, Reuse, Recycle – so important! Keep waste out of landfills, reduce pollution while conserving natural resources and wildlife, create jobs and new technologies, provide a supply for the demand of recycled product.
TRASH AND RECYCLING PICK-UP RULES
Republic Waste will
ONLY pick up trash in plastic trash bags and recyclables in blue plastic bags.
No loose trash will be collected. Sealed plastic trash bags may be placed in a trash can at the curb to protect the bags from damage. Bags will be remo
ved from the cans.
Only plastic bags will be taken.
This is in effect until further notice, for safety reasons,
so if your trash is unbagged or in cans, please retrieve it (if you can) and replace it with bags only.
If you prefer, you can still dispose of large items at our transfer station at the Service Center, 16099 Foltz Parkway, will be open regular hours: Monday through Friday – 7 a.m. to 4:30 p.m.; Saturday – 8 a.m. to 2 p.m.; Sunday – 10 a.m. to 4:30 p.m.
Blue plastic recycling bags can be found in most stores where you buy garbage bags, but you can also buy a roll of 10 bags for $1.35 at the city offices on Foltz Parkway.
Recycling is pretty simple in Strongsville. In blue bags, you can mix glass, metal cans, cartons, paper (junk mail, newspapers, magazines) and FLATTENED (please) cardboard (cereal boxes, packaging). You can also recycle plastics, but not all plastics. Milk jugs, water bottles, empty bottles like shampoo and laundry detergent (anything with a neck), and NOW you can recycle plastic tubs such as yogurt, sour cream and butter containers. Here's a handy plastics recycling guide
Shredded paper should not be added to your curbside recycling bag. Shredding disposal options: River Valley paper bins are located in parking lots of fire stations, schools and places of worship; there are shredding services available at places like Office Max and Staples; a paper shredding event will be scheduled at the city service garage sometime this year.
Household hazardous waste (oil-based paint [no latex], solvents, used motor oil, automotive fluids, aerosols, lawn and garden products, pesticides, pool chemicals and household cleaners — 2021 scheduled drop-off dates are May 4-6 and August 31-Sept 2 at the city service garage on Foltz Parkway from 8a-4p.
Drop off (between 8a-4p weekdays) scrap metal, tires, computers, electronics (acceptable components include monitors, CPUs, printers, terminals, keyboards, mice, modems, software, cell phones and ink cartridges) and yard waste year-round at the Strongsville Republic Transfer Station, 16099 Foltz Parkway.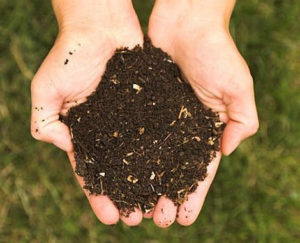 Composting Yard Waste and Leaves
Grass clippings, tree and shrub trimmings, leaves. Rather than throwing them in the trash, they can be easily composted. Composting is a great way to keep organic material out of landfills. It's also good environmental practice and an inexpensive way of adding nutrients back into the soil.
Mow the leaves on your lawn and put them in the garden or flower beds. Leaf mulch is cheaper than buying wood chips and it helps deliver nutrients to the soil around your plants. Read more about composting your leaves.
An effective compost pile must be large enough to hold the heat in the center while still allowing air to permeate the pile. You should also look for a level, well-drained, accessible area and keep the pile or bin in a sunny spot to trap solar heat. Learn more about how to compost in your backyard.
Free compost seminars are scheduled for spring and summer. See the Composting Workshops pagefor more information.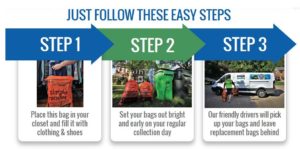 Simple Recycling
Note: Simple Recycling will suspend its program in Strongsville due to COVID-19. A date for resuming this service has not been announced.
When the program becomes available again, you can set out items (generally clothing and fabrics that aren't in good enough shape to donate to a charity shop) in a special orange bag on your regular trash day and a Simple Recycling employee will pick it up. If you need more bags or more information about the program, check their website, simplerecycling.com.
Get 'er Done and Pass it On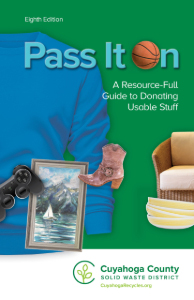 If an item is no longer wanted, it's time to pass it on. We suggest reorganizing, selecting the items to pass on and stage them until you can donate. Donating usable goods helps others and reduces waste. Local community service and nonprofit organizations use donated items to support their work. Toys, art supplies, clothing, books, school supplies, office equipment, sporting goods, tools, furniture and more can be donated to many organizations in Cuyahoga County and beyond. Find a new home for your usable goods. Check out the District's "What Do I Do With?" search engine, located in the green bar at the top of every page of our Cuyahoga Recycles website. See more about the Pass It On book.
Recycling Right Doesn't Happen By Luck!
Crossing your fingers, making a wish and finding a leprechaun won't help an item get recycled. Know what to throw in your curbside recycling. Only these five items belong:
• cans
• cartons
• glass bottles and jars
• paper and boxes
• plastic bottles, jugs, and tubs (yogurt, sour cream, butter)
Recycle right by including only these five in recycling, because everything else is considered contamination, which increases the cost of providing recycling services. Learn more about recycling right.
For additional recycling opportunities (i.e., clothing and other household goods, hazardous waste, computers, furniture and more), click here.
wishcycle [wiSH sahy-kuhl] verb The desire or hope that everything can be recycled.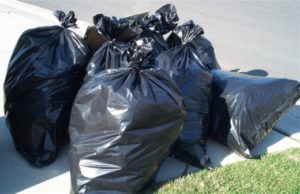 What Do I Do With?… Excess Trash
Individuals with excess trash and debris may take their waste to our publicly available solid waste transfer station. Yard waste can be discarded in the composting area rather than be transferred to a landfill.
Strongsville residents (proof of residency is required) can drop off excess household refuse (no remodeling or construction waste), scrap metal, tires (off the rim only), car batteries, appliances and yard waste like brush and branches. NOTE: Freon no longer has to be removed from appliances brought to the Transfer Station. Republic Waste will remove it.
Strongsville Transfer Station (operated by Republic Services)
16099 Foltz Industrial Parkway, Strongsville (use the driveway along the railroad tracks)
440.572.7590
Hours:
Monday through Friday – 7 a.m. to 4:15 p.m.
Saturday – 8 a.m. to 1:15 p.m.
Sunday – Closed
The area is under video surveillance. Anyone dumping illegally may be fined. Under state law, liquids cannot be accepted at transfer stations. The Strongsville station does not accept liquids of any kind. Also not accepted: waste from construction or remodeling, dead animals, poisons, explosives, hazardous or corrosive chemicals, clothing taken from a person with an infectious disease, paint, gasoline, oil, thinners, soil, rocks, bricks, concrete blocks. For questions about disposing of these items, please call Republic Waste at (440) 572-7590. Used motor oil is accepted by several area businesses. Oil can be also dropped off at the Strongsville Take 5 Oil Change on Rt 82 just west of Howe.