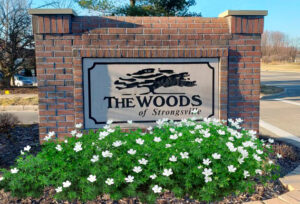 Welcome to the website for The Woods of Strongsville HomeOwners Association. First time here, please create a new user account and fill in the required profile data as completely as possible. There's a lot of useful information here, please know that we'll always be improving it for you. If you would like to pay your HOA dues for 2023, please scroll down for online payment portals. Thank you!

Pickleball, Tennis & Basketball Courts are ready for you!



Thanks for your patience in getting the courts repaired and resurfaced. Courts are open! Until the winter comes, anyway. We don't recommend playing in the rain or snow. And remember, let's keep them in good shape. NO animals, bikes, skateboards, rollerblades, ect…. If it's not windy and weather is in agreement, our MONDAY HOA pickle ball evenings at 5p should take place. We'll have nets, paddles and balls if you don't have them, players of any level are most welcome. If you don't know how to play pickle ball, we'll teach you! Join us!
---
Dear Neighbors:

Fall is here and it's a perfect time to walk outside and look at your home through the eyes of others, before Winter arrives. It is time to take care of some of the needed projects, many very small, to keep the Woods looking great.
The Woods is 30 years old. Fortunately, Pulte built the homes with brick and stone fronts, which really makes a difference in the appearance of a neighborhood over a quarter of a century old. As homeowners, I think everyone can agree that we want to keep the property values up. As Board members have been going through the neighborhood, we have compiled a list of areas to look at:
An odd missing shutter
Shaker siding that needs painting, maintenance or replacing
An old built-in basketball hoop or playground set that needs to be removed
Sidewalks that are very uneven and pose trip hazards
Mailbox that needs attention
Doors/trim that need to be painted
Sides of houses that need a good power washing
Lamp posts that are not lit dusk to dawn (which is a city ordinance)
Landscaping that needs attention
Fences that need to be repaired and/or stained
If everyone does their part to keep their houses looking great, this will continue to be the best looking neighborhood at our 50th anniversary! Thank you so much! ––Your Woods Board
---
Dear Dog Owners:
It has been brought to the WOS Board's attention that people are taking walks with their dog(s) untethered. There are resident concerns that can be acted upon. Your pet may be the sweetest and best pet ever, but laws are made for everyone, so please be lawful, and out of respect for your neighbors, please leash your pet when you take walks with them.
Neighbors: If you are a dog owner, you are walking your dog and it decides to poop – clean it up! It does not matter if it is on someones front yard or in one of the common areas of the development – please be considerate!! There have been many complaints about this and it's a simple and considerate thing to do to keep after your pet's droppings. Thank you in advance!
Soccer Field Reservation policy here.
For up-to-date information and conditions on COVID-19, flu and RSV in Ohio, go to odh.ohio.gov.
Gordon Short is our Councilman for Ward 4 in Strongsville. At the 2022 Woods annual meeting he welcomed us to share his contact information. His cell number is 440-821-6625; Email gordon.short@strongsville.org. Facebook: https://www.facebook.com/gordoncshort
Welcome to our Woods Online HOA Dues Payment Portals.
Pay HOA Dues for 2023
Click on the envelope graphic below to submit payment via PayPal.
PayPal charges us a processing fee, listed below. Please be sure to include your home address. Dues payment deadline was January 31, 2023. Late fees need to be added if using this PayPal payment portal.

Through December 31, 2023, $225.00 + late fees $90.00 + PayPal processing $11.90 = $326.90.
Click on or scan the QR code below, then follow instructions to pay via Zelle. OR you can use the email address treasurer@woodsofstrongsville.com. If you haven't already used this method of payment elsewhere, your bank's app, if participating with Zelle, will help you through an easy setup. After inputting your payment amount, PLEASE enter your home address in the section labeled "What is this for" or whatever your memo section is titled. Your payment will be received immediately and noted shortly thereafter. There is no processing fee to use this payment method. Dues payment deadline was January 31, 2023. Through December 31, 2023, $225 dues + late fee of $90.00, so your Zelle transmission amount due is $315.00.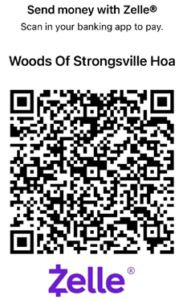 Thank you for using our online payment portals!
If you need further information, please contact the WOS board treasurer at treasurer@woodsofstrongsville.com.
Woods of Strongsville HOA Hotline: 440-732-0172.