Welcome to the website for The Woods of Strongsville HomeOwners Association. First time here, please create a new user account and fill in the required profile data as completely as possible. There's a lot of useful information here, please know that we'll always be improving it for you. If you would like to pay your HOA dues for 2021, please scroll down for payment portal. Thank you!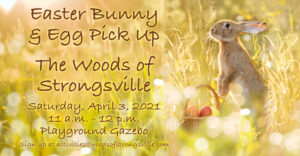 Easter Bunny & Egg Pick Up was lots of fun!
The Easter Bunny and his friends were at the Playground Gazebo where prepackaged eggs were available for pick up from 11:00 a.m. to noon on Saturday, April 3rd!
The Easter Bunny and his ducky friends were available for photos, you can experience the event through some of these photos here. Hope you all enjoyed the event, we'll definitely do it again! If you did not attend, be sure to set aside an hour next Eastertime. See you then!
As Ohio continues to combat the coronavirus (COVID-19) pandemic, please stay safe and healthy. As COVID cases and circumstances change nearly daily, for the most updated, accurate information and living guidelines regarding COVID-19 in Ohio, we suggest you visit coronavirus.ohio.gov.
The Playground is OPEN. It is recommended that parents bring their own disinfectant wipes and hand sanitizer. Tennis Courts are CLOSED. We will notify you when we reopen. Once reopened, to acquire the code to enter the courts, you need to login to this site, go to "MEMBERS" pull-down menu, pull down to TENNIS COURT. See you in the Spring!
Neighbors: Be careful if you are walking or walking your dog.
If you are a dog owner, just a reminder – dogs are animals and even though you may think that your canine is yard trained, you never know what can set them off and make them run and attack or scare people who are walking. Please ensure you have control of your animal.
PS – if you are walking your dog – and it decides to poop – clean it up! It does not matter if it is on someones front yard or in one of the common areas of the development – be considerate!!
Our annual meeting is postponed. Will post the new date when it is determined.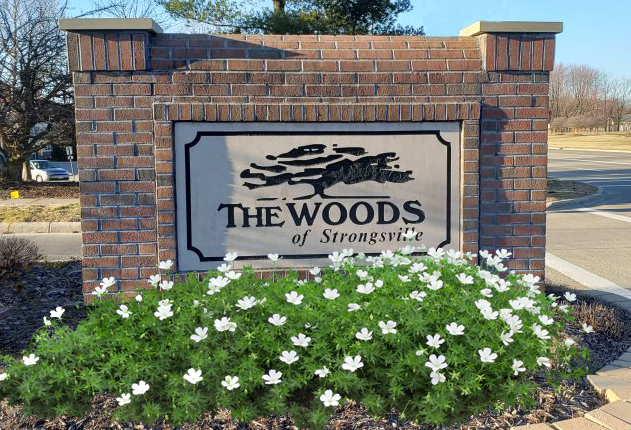 Located here is our 2019 Annual Meeting Recap written by our own Tom Newbould.
Payments are due by January 31, 2021.
Late fee, if applicable, will be added in checkout.

Thank you for using our online portal!
$210.00