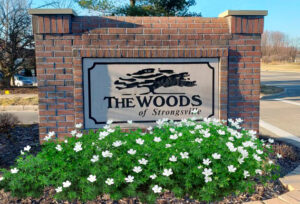 Welcome to the website for The Woods of Strongsville HomeOwners Association. First time here, please create a new user account and fill in the required profile data as completely as possible. There's a lot of useful information here, please know that we'll always be improving it for you. If you would like to pay your HOA dues for 2021, please scroll down for online payment portals. Thank you!
---
NOTICE: Woods Hotline is temporarily out of order. We'll let you know when it's back up. Meanwhile, you can still contact board members from our contact page.
---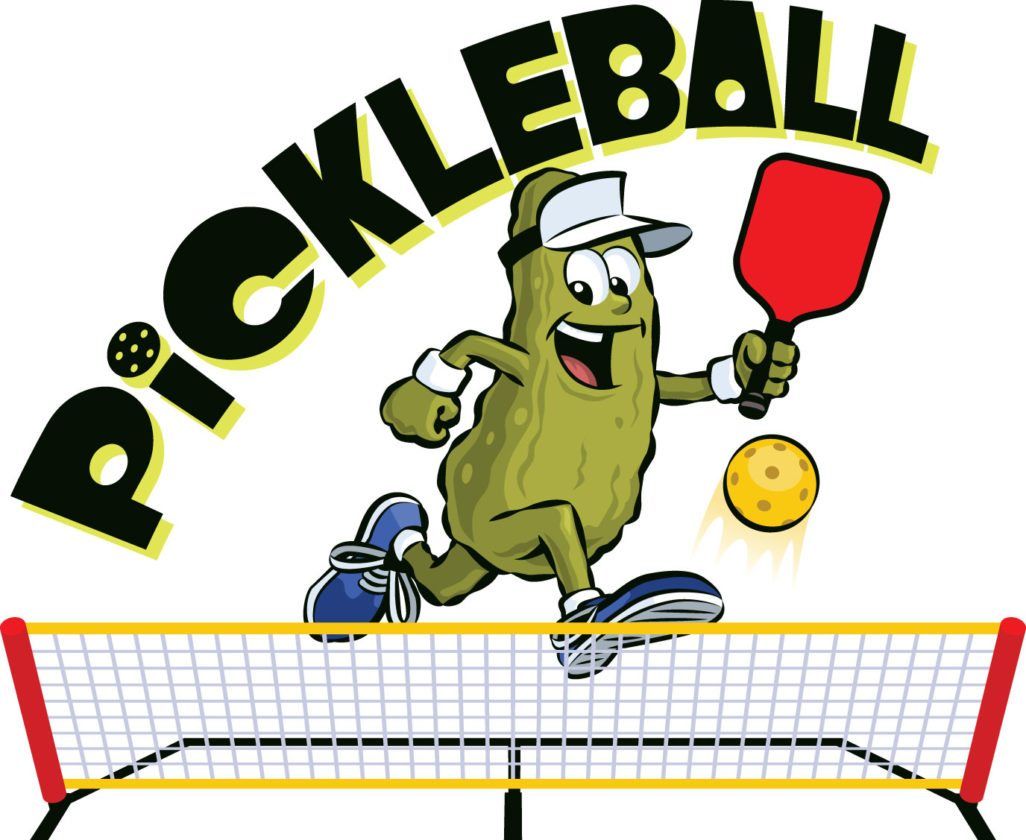 Where: Tennis Courts, Ellsworth Drive • Tuesdays 6 pm
Thanks to Rose from Blue Spruce – we have painted out Pickleball Courts at the Tennis Courts. Pickleball is one of the hottest new sports loved by people of all ages. If you do not know about Pickleball, here is a video on how it is played. https://youtu.be/998iCDaZ-m4. Each Tuesday night, we are going to have open play at the courts. Depending on the interest, we can paint more courts more play going at once and expand to other nights/days of the week. Everyone in the Woods is invited. We will have paddles and balls for neighbors to use to try the game.
---
The Woods of Strongsville HOA Annual Meeting
has been postponed during the pandemic, however, we are looking at options this year! Until we can have an annual meeting, a
Q&A page
on this website has been created for you to create topics, ask questions, prompt discussion with the board and other residents. Please feel free to create your topics, ask your questions and we will do our level best to answer them. Thanks in advance for your participation!
Neighbors: If you are a dog owner, you are walking your dog and it decides to poop – clean it up! It does not matter if it is on someones front yard or in one of the common areas of the development – please be considerate!! There have been many complaints about this and it's a simple and considerate thing to do to keep after your pet's droppings. Thank you in advance!
Soccer Field Reservation policy here.
As Ohio continues to combat the coronavirus (COVID-19) pandemic, please stay safe and healthy. For the most updated information, please visit coronavirus.ohio.gov.
Welcome to our Woods Online HOA Dues Payment Portals.
Pay HOA Dues for 2022
Click on the envelope graphic below to submit payment via PayPal.
There is a $6 fee to use this option (PayPal charges the Woods this fee). Please be sure to include your home address. Dues payment deadline was January 31, 2022. Late fees will be added automatically if using this PayPal payment portal.

$215.00 + $75.00 Feb-March-April-May-June Late Fees + PayPal processing $6.00 = $296.00
Click on or scan the QR code below, then follow instructions to pay via Zelle. OR you can use the email address treasurer@woodsofstrongsville.com. If you haven't already used this method of payment elsewhere, your bank's app, if participating with Zelle, will help you through an easy setup. After inputting your payment amount, PLEASE enter your home address in the section labeled "What is this for" or whatever your memo section is titled. Your payment will be received immediately and noted shortly thereafter. There is no processing fee to use this payment method. Dues payment ($215.00) deadline was January 31, 2022.
Add late fees for Feb-March-April-May-June, $75.00 = $290.00 total due.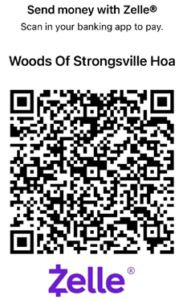 Thank you for using our online payment portals!
If you need further information, please contact the WOS board treasurer at treasurer@woodsofstrongsville.com, or call our Homeowners Hotline at 440.732.0906.